Cliquez ici pour lire ceci en français
On the last day of March, five people living in the Tembo community of Tchigoma, Sud-Kivu Province, were kidnapped by certain members of the nearby immigrant Hutu community who were claiming a disputed mine site. They were taken to Katasomwa, inside Kahuzi Biega National Park (PNKB), a UNESCO World Heritage Site in eastern Democratic Republic of the Congo (DRC). A group of Tembo people went to Katasomwa to try to free the kidnapped people; a Hutu militia headed towards Katasomwa to intervene but the DRC's army blocked their way. Fighting broke out, killing soldiers and militia members, and the situation rapidly deteriorated into a regional conflict between Tembo and Hutu militias.
Now, seven weeks later:
up to 12,000 families from various ethnic groups have been displaced by the fighting, and are in urgent need of assistance

the displaced people are living in churches or schools, with host families, or outdoors with no shelter

children are not in school, families can't work their fields, and many families don't have enough to eat

at least 12 civilians have been killed, 

and probably many more

schools and churches have been demolished; two hospitals were completely pillaged and patients injured

at least 30 homes have been destroyed
The Batwa people living around the Park are caught in the middle. Several Batwa were killed and Batwa homes have been burned. Many fled into the forest or to neighboring villages.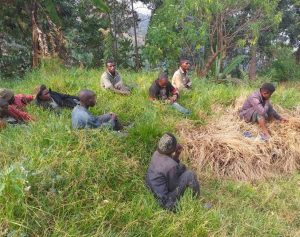 Photo by Paulin Mwendo (ARAP), October 2020
The trigger for the fighting was the contested mine site at Katasomwa, inside Kahuzi Biega National Park. A large immigrant Hutu community has developed in the Park, and both the Hutu and Tembo communities want to exploit the minerals. This is particularly outrageous, given the fact that indigenous Batwa people have been thrown into prison and even killed for being inside the Park – their traditional homelands. The Park insists that the displacement of the Batwa and subsequent violence against them is necessary to protect these special "world heritage" lands and endangered species. But now we learn that there are other large communities living, farming, mining, and even fighting inside the Park. How can this be?
Click here to read our report on the conflict (in French) on our website.
The Park's expansion in 1975 brutally forced the Batwa people off of their lands. They have lived in abject poverty, landless and largely without livelihoods ever since, for the past 45 years. Because the Park lands were emptied of their traditional guardians – the Batwa – these lands were viewed as open space by other communities and armed groups, who used them as a place to hide from authorities, as a staging ground for militias, or as a place to extract minerals and timber.
Meanwhile, militarized Park guards (with complicity from Park authorities and the army) continue to harass, shoot at, arrest, imprison or even kill Batwa people when they go into the Park. This has happened even when they enter the Park for authorized purposes: for example, in August of 2017, Nakulire Munganga and his 17-year-old son Mbone Nakulire were shot by armed ecoguards while they were gathering medicinal herbs to treat an outbreak of cholera; the teenager died. We have spent more than a year trying to free Chief Kasula and seven other Batwa people from the harsh prison in Bukavu, where they were sentenced by a military court to 15 years, after having dared to set foot in the Park. There is clearly a double standard, and now we learn just how dramatic the difference is: large communities, farms, mine sites and militias are allowed to exist in the Park, while peaceful Batwa families cannot enter the Park – their own traditional lands.
The DRC is the epitome of a colonized, extractive economy, where everything is taken by wealthy or powerful elites and the common people are left fighting each other over the scraps.  From the time King Leopold of Belgium took the Congo Basin by force in 1885, Congolese leadership has continuously siphoned off wealth, leaving nothing behind to support the well-being of the people. In addition to the kleptocrats running the country, armed militias from neighboring Rwanda and Uganda have also invaded to grab minerals and land in eastern DRC. With the advent of "green technology" these minerals have taken on even greater importance globally, and the big mining interests including China, Switzerland, Israel and Canada are scrambling to gain control. Everyone is trying to take whatever they can, and the eastern provinces of the DRC have become an ongoing conflict zone.
Unfortunately, international "conservation" interests operate in much the same way, taking the land by force and excluding the indigenous peoples and local communities from accessing, managing or benefiting from what were their traditional homelands. However, even with military training and weapons, the park ecoguards are not able to bring the encroaching militias under control. They are operating under the failed paradigm called "coercive conservation", which destroys the indigenous communities, thereby allowing destruction of the so-called protected lands by others.
This is an outrage that must be stopped. IfE's regional network in DRC and neighboring countries, called Réseau Initiative for Equality (RIFE), is working to:
monitor the conflict, where the Batwa people have fled to and what they need; then pass this information to humanitarian assistance agencies

document the killings, illegal arrests and corrupt practices by Park managers and ecoguards

protect Batwa human rights and land rights in the Congolese courts

provide evidence of violations to the African Commission on Human and Peoples' Rights

build public awareness in DRC and around the world on this situation of coercive conservation, and link our local partners with international funding to defend their rights
We can't do this without your help! Please join our International Batwa Support Committee to gather information, build awareness and demand solutions, or make a donation to support our work.
We look forward to your participation as we seek a peaceful and ecologically sustainable world!
#####