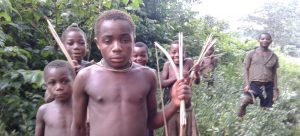 You can support the local actions and global movement for the survival and rights of the indigenous Batwa / Bambuti people in a number of ways. 
Join our International Batwa Support Committee, to help with:
organizing a speaking tour in the US and EU for Batwa/Bambuti representatives

translating documents, petitions and articles – we especially need good translators from English into French and vice versa

circulating articles to news media around the world on the situation of the Batwa

presenting information and demands to United Nations human rights bodies regarding Indigenous rights, human rights, peace-keeping and prevention of genocide

presenting specific information to humanitarian agencies (during conflicts) on location and urgent needs of displaced Batwa peoples 

presenting information and demands to World Bank, International Monetary Fund, European Commission and others regarding the encouraging and permitting of harmful activities

contacting national governmental representatives such as embassies, state departments and other agencies to demand that they enforce resource extraction transparency laws and agreements, enforce tax codes, prevent off-shoring of profits, and stop supporting offending governments and militias with money, arms, or public relations support

contacting intergovernmental agencies such as the UN, World Bank, IMF, African Union, EU, etc., to demand that they enforce human rights laws, charge war criminals, and support peacekeeping missions
Make a donation today, urgently needed for the following:
travel to reach remote communities to monitor the situation

communications including mobile phones, call time and laptops

travel to international meetings (African Union; United Nations) to demand policy changes and request assistance

preparing reports to document situation

reaching out to international news media with stories of what is happening

developing regional and international awareness and campaigns 

promoting and engaging in local and regional conflict resolution
Volunteer to help research and report on which companies and governments are involved in the land grabs, off-shoring of profits, arms sales, human rights abuses, and extrajudicial killings that are destroying the Indigenous Twa and Mbuti communities.
The information we gather together will be used in our international public awareness and media campaign. It may be used in the future to put pressure on companies and governments, to take them to court, or to provide documentation to international courts and tribunals such as the International Criminal Court.
JOIN WITH US:
Go to this link to sign up for notifications, to get involved, and to make a donation now: 
https://docs.google.com/forms/d/e/1FAIpQLSdkG06pb8hPDkOs0Bh_bDHECsqh2Tku3qtzLzMy6CoiztbDZQ/viewform?usp=sf_link
Thank you! Only all of us working together can make these things happen.  
FOR MORE INFORMATION
Contact us at info@initiativeforequality.org