Support
With the committed support of a diverse base of private donors and civil society partners, IfE has changed the global paradigm on inequality. Now we are looking for a few special donors to take our work to the next level.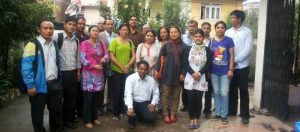 All IfE's successes are due to the people who support us.
They do this through their networks, donations and hard work.
We are partnering with more than 300 local and national civil society organizations in over 80 countries to conduct our Field Hearings, from Respect Aux Femmes in DR Congo to Poor People's Human Rights Campaign in the US.
Global partners we have worked with include Academics Stand Against Poverty, ActionAid International, Beyond 2015, Global Network of Civil Society Organizations for Disaster Reduction, International Council for Science, International Social Science Council, Oxfam, Stakeholder Forum, UN DESA, UNESCO, UN Women, and more.
Scroll down to see a list of some of the main individuals whose financial and in-kind support have made our work possible.
We have already changed the world on a shoestring.
Since late 2011, we have built a global network to strengthen relationships between civil society groups and marginalized communities; we have taken input and learned the priorities of marginalized community members around the world; we have put in place integrated political collaborations at the local, national and global levels to fight with these communities for greater social, economic and political equality; we have promoted an ethic of participatory and democratic governance within civil society groups; and we drafted, promoted and succeeded in obtaining one of the UN's new Sustainable Development Goals – Goal 10: Reduce inequality within and among countries.
Now we need a few special donors to scale up our game-changing approach.
Our network is organized, structured, trained, experienced, and ready to do even bigger things! We want to build on our accomplishments and relationships to do the following:
work with our Field Hearings communities to fight for their interests and priorities

implement a global network of participatory citizen monitoring to watch over the implementation of the new Sustainable Development Goals

work with community members to hold local and national governments accountable for serving the people

facilitate local movements to create community-initiated economic enterprises that are sustainable, democratically governed, and meet people's needs

support structured global collaborations on common issues such as the refugee & migrant crisis, land grabs, using the arts for promoting equality, and more
Are you that special donor?
If you think you might be, please get ahold of us to talk about what we can do together! 
But what about the problem of wasteful "overhead"?
Donors are hesitant to fund excess coordination, administration or overhead, and rightly so. Studies have documented abuse by international NGOs that raise money to work in countries around the world, but keep most of the funding for their own staff. Read here, here, or here.
IfE elevates the contributions of unrecognized local groups on the front lines, that have been doing important work for years. IfE's activities are undertaken by our network of partners around the world, not by a central staff. Most of the groups we work with are severely underfunded, and lack access to global donors. They often have strong relationships with remote and underserved communities, but don't have the resources or experience to undertake substantial projects alone. When we receive funding for a joint project, the money goes to the program work, and all partners share the funding equally. Part of the reason this is possible is because our fiscal sponsor, FJC, only charges a 5% overhead for all disbursing, accounting and reporting.
IfE brings value to each project in the following ways:
providing global leadership on democratic, strategic and effective engagement within organizations and networks

convening groups of partners for information-sharing and strategic planning

offering guidance on how to engage in collective impact collaborations

facilitating joint decision-making and mediating disputes among partners

fundraising for groups of partners that do not have access to donors

leading participatory (not top down) trainings and capacity-building sessions

ensuring project accountability: activities move forward, funds are spent as promised

providing materials and training necessary for successful project activities

vertically integrated activism: building connections between local, national and global groups, international news media, and intergovernmental decision-making
A few of the key supporters who have made our work possible through their collaboration, networking, and contributions of time and money:
Anne Firth Murray (Founding President, Global Fund for Women; Consulting Professor, Stanford University)

Aliou Barry (Executive Board of Guinean Parliament; West African Network for Peacebuilding; Technical Advisory Committee of UNDP Equator Prizes; StatView International)

Anna da Costa (freelance journalist for Guardian, Reuters Alertnet, Huffington Post, New Scientist and others; environmental consultant; Balaton Group; formerly with Prince's Charities' International Sustainability Unit)

Anthony Akpan (West Africa coordinator for IfE; Pan African Vision for the Environment)

Balint Balazs (Environmental Social Science Research Group – Budapest)

Bhola Bhattarai (National Forum for Advocacy Nepal (NAFAN); World Social Forum – Nepal; Social Solidarity Economy – Nepal)

Caroline Usikpedo (Assistant Foreign Affairs Minister for International Human Rights Commission; founder of Niger Delta Women's Movement for Peace & Development)

Cheri Honkala (Poor People's Human Rights Campaign; U.S. Greens Party nominee for vice-president in 2012)

David Berry (Sustainable Water Resources Roundtable; Dharma Centre; formerly with White House Council on Environmental Quality)

Deborah S. Rogers (founder & President, Initiative for Equality; affiliated researcher, Stanford University Institute for Research in the Social Sciences)

Heide Hackmann (Executive Director, International Council for Science; formerly International Social Science Council)

Kaitlin Shilling (Director – PLUS: Platform Usaha Sosial; Trade & Competitiveness Consultant – World Bank; Sustainable Development Solutions Network – Southeast Asia Hub; formerly with The Foundation Center)

Neva Frecheville (formerly with CAFOD, Beyond 2015)

Pradeepta Nayak (formerly with Sampradaan Indian Centre for Philanthropy)

Priscilla Achakpa (Women Environmental Programme; Organizing Partner for the UN's Women's Major Group)

Richard Osaliya (Eastern Africa regional coordinator for IfE; former fellow at Economic Commission for Africa)

Roberto Guimaraes (former UN Chief of Social and Policy Analysis; author, "The Inequality Predicament: Report on the World Social Situation 2005" – UN DESA)

Soren Ambrose (ActionAid; formerly with Institute for Policy Studies, 50 Years Is Enough; cofounder of Alliance for Global Justice)

Tali Mendelberg (Department of Politics, Princeton University)
We look forward to adding you to the list!