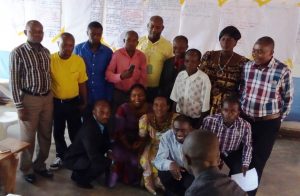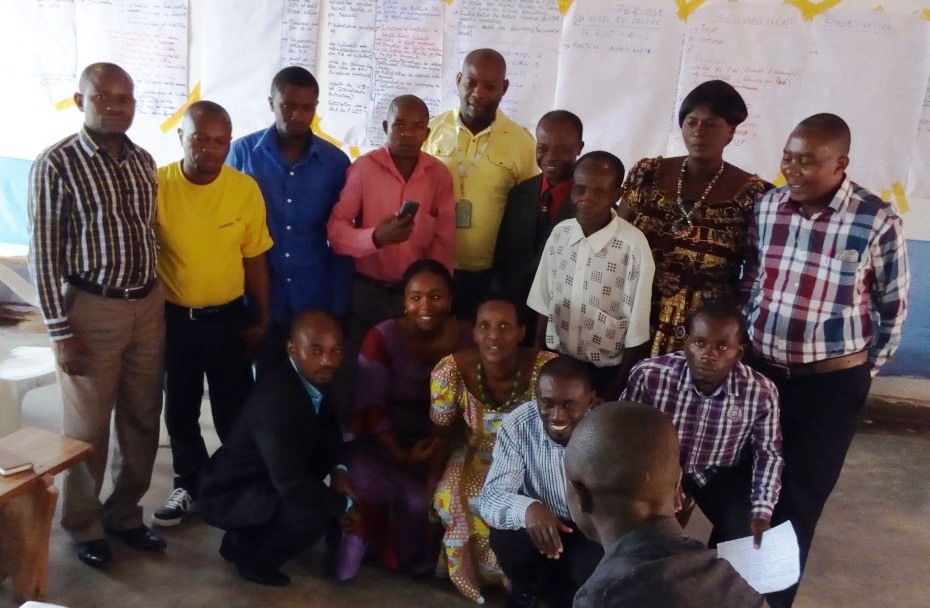 IfE partners in the Democratic Republic of Congo (DRC), Burundi and Rwanda are taking steps to protect the rights of Indigenous people in the region, and to end the violence that threatens their survival.
The abuse of human rights, lack of enforced legal protections, theft of land and resources, and outright dehumanization of Indigenous peoples in many parts of the world is one of the most urgent issues related to inequalities. In the case of the BaTwa and other Indigenous groups [1] of the African Great Lakes region, their continued existence is at stake. These communities are being evicted from their traditional forest lands through a combination of logging and deforestation, agriculture, extractive minerals development, and development of nature preserves which exclude forest peoples. They are widely marginalized by government agencies and other communities across the region. Land rights and legal protections are lacking or unenforced, and severe human rights abuses in the legal, social and economic realms are commonplace.
To make matters worse, violence and conflict have been rampant across the region, related to extractive resource development, historical grievances from colonial abuses, and contemporary ambitions for wealth and power. This ongoing conflict, sometimes referred to as World War III, has been deadly for all populations, with an estimated 6 million deaths since 1998 [2]. It has been especially devastating for Indigenous communities. Their low population numbers, lack of modern arms and marginalized status make them easy targets for militias or even local communities wanting to take their land or the associated minerals and timber. BaTwa communities are subject to intentional, methodical violence and killings that merit the term 'massacre' or worse in certain locations [3] (warning: very disturbing content in this footnote).
This violence against the BaTwa urgently needs to be ended. In order to solidify conflict resolution efforts, the long-term marginalization, lack of legal protections, human rights abuses, and land and resource grabs must be addressed as well.
With amazing courage and solidarity, twenty IfE partner organizations have come together to launch an initiative to protect BaTwa survival and rights in the African Great Lakes region. This multi-ethnic coalition includes both Indigenous and non-indigenous organizations. The partners traveled from across the region to hold a two-day meeting in Bukavu, DRC, on 16-17 January 2017. They developed the outline of an ambitious and strategic 5-year project designed to:
help put a stop to the grievous human rights violations against Indigenous peoples in the African Great Lakes region;

amplify the struggle for legal recognition of the rights of Indigenous peoples and the enforcement of these laws; and

put in place a unified regional movement to advocate for the needs of Indigenous people for survival, peaceful coexistence, self-determination, land, food, housing, education and health care.
Read more about the plan below [4].
IfE's approach to effective human rights protection and peace-building in this region is based on several important principles. First, we respect the leadership, needs and priorities of the Indigenous communities and organizations. Second, all our on-the-ground work is done through local partners who are intimately familiar with the situation, culture, politics, and risks. Third, we conclude that it is necessary to address the equitable provision for human needs in order to reduce conflict and protect human rights. Fourth, we believe in the importance of  multi-ethnic dialogue and collaboration for conflict resolution, both within our network as well as among the communities of the region. We believe that our network of partners can serve as a ground-breaking model for this approach in the region.
Endnotes
[1]  These Indigenous peoples, including the BaTwa, BaMbuti, Efe, Aka, and other related groups, have been called "Pygmies" in the past, but this term is now considered to be pejorative by many. It is still common for older organizations in the region to have the word "Pygmy" in their name, reflecting the historical use of that term. In our network, we use the terms BaTwa or Indigenous peoples (Peuples Autochtones or PA in French) to refer to these related groups.
[2] This comes on the heels of the 1994 Rwandan genocide in which an estimated 800,000 Tutsis and 10,000 BaTwa people (30% of the Rwandan BaTwa population) were massacred. The ongoing regional conflict has direct connections to events in Rwanda, as many survivors fled Rwanda for other countries in the region during or after 1994.
[3]  (Warning: very disturbing content.) Many entire villages have been burned down, girls and women raped, and hundreds of people killed outright. This past January 14, for example, over 600 BaTwa people were massacred during a nighttime attack in Kalemie and Moba Territories, Tanganyika Province in eastern DRC, with a number of girls dying over the next week from having been brutally raped. People familiar with the situation say that national authorities are complicit with local non-Indigenous communities in carrying out these attacks, with the intention of taking land and resources from the BaTwa.
[4]  This description of project objectives is translated from the Bukavu Report developed by participants at that January 2017 meeting. Activities proposed by the coalition of partners include:
Monitoring of human rights violations and issuing regular reports

Creation and installation of protection and early warning committees

Legal and judicial support for victims

Conflict management, resolution and transformation

Dissemination of international Indigenous rights declarations

Awareness-raising on the right of return by Indigenous peoples

Conducting Field Hearings in BaTwa and non-indigenous communities to learn their needs, perspectives and priorities

Build international awareness and concern about the situation through media outreach, identifying civil society allies, and taking the case to the United Nations, African Union, and other international agencies

Capacity-building for project member organizations
[5] Background References:
Wikipedia 2017: Second Congo War (Wikipedia, current website)
https://en.wikipedia.org/wiki/Second_Congo_War
Wikipedia 2017: Rwandan Genocide (Wikipedia, current website)
https://en.wikipedia.org/wiki/Rwandan_genocide
World Without Genocide 2017: Genocides and Conflicts: Democratic Republic of the Congo (World Without Genocide – Mitchell Hamline School of Law; current website)
http://worldwithoutgenocide.org/genocides-and-conflicts/congo
Abby Martin 2016:  How the World Runs on Looting the Congo – interview with Kambale Musavuli, Friends of Congo (teleSUR Empire Files – 24 April 2016)
https://www.youtube.com/watch?v=mxa4YbmMkQ0#t=471.814587
Gary K. Busch 2012: International dimensions of the conflict in Eastern Congo (Pambazuka News, 06 June 2012)
https://www.pambazuka.org/human-security/international-dimensions-conflict-eastern-congo
Kambale Musavuli 2013: DR Congo: A prescription for lasting peace and stability (Pambazuka News, 28 November 2013)
https://www.pambazuka.org/human-security/dr-congo-prescription-lasting-peace-and-stability
Amnesty International 2016: This is What We Die For: Human Rights Abuses In the Democratic Republic of the Congo Power the Global Trade in Cobalt (Amnesty International 2016)
http://www.amnestyusa.org/sites/default/files/this_what_we_die_for_-_report.pdf
Severine Autesserre 2012: The Only Way to Help Congo (New York Times 22 June 2012)
http://www.nytimes.com/2012/06/23/opinion/the-only-way-to-help-congo.html
IPACC 2017: Who are the Indigenous Peoples of the Great Lakes? (Indigenous Peoples of Africa Co-ordinating Committee, current website)
http://www.ipacc.org.za/en/where-we-work/the-great-lakes.html
Baby Matabishi  2014:  Pygmies in 'mortal danger' in southern DR Congo (France 24 – The Observers 19 August 2014)
http://observers.france24.com/en/20140819-pygmies-danger-dr-congo-mai-mai
Zahra Moloo 2016:  Militarised Conservation Threatens DRC's Indigenous People – Part 1, Part 2 (Inter Press Service 14 & 15 September 2016)
http://www.ipsnews.net/2016/09/militarised-conservation-threatens-drcs-indigenous-people-part-1/
http://www.ipsnews.net/2016/09/militarised-conservation-threatens-drcs-indigenous-people-part-2/