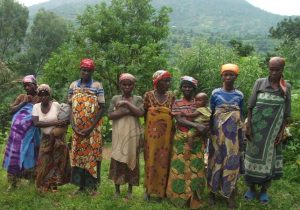 Field Hearings in Batwa commmunity in Burundi
RIFE (Réseau Initiative for Equality) is pleased to announce that its indigenous women's rights section, Femmes de RIFE (Women of RIFE), is launching a major international initiative from 2021 to 2023.
The project, called Building a Movement of Batwa Women to Eliminate Sexual and Gender-based Violence  (Construire un mouvement de femmes Batwa pour éliminer  la violence sexuelle et liée au Genre), is supported by AmplifyChange – a women's rights donor based in London. It will be implemented in the Democratic Republic of the Congo (DRC), Burundi and Rwanda.
Background: RIFE was initiated in 2017 at a meeting of organizations from DRC, Burundi and Rwanda held in Bukavu, Sud-Kivu Province of eastern DRC. RIFE's purpose is to advocate for the rights, empowerment and well-being of the indigenous people in this region, known as Batwa, Bambuti or Pygmies. RIFE currently has 18 member organizations.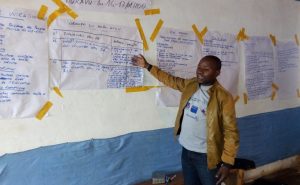 Initial Meeting in Bukavu, January 2017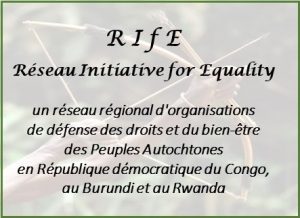 "Femmes de RIFE" is a section of our network composed of six organizations within RIFE who are particularly dedicated to the empowerment of indigenous women in the region. We made a presentation on the serious issues confronting Batwa women at the 2019 conference of the United Nations Permanent Forum on Indigenous Issues; see the two slides shows we presented here: DEB's Presentation EN and here: Belle's Presentation FR.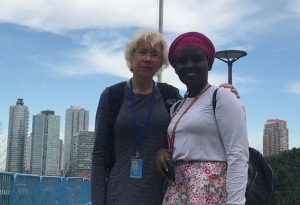 Deborah and Belle at UNPFII meetings in New York, 2019
The Project:  The long-term goals of this project include building and strengthening a movement led by Batwa women for their own empowerment and well-being; changing the norms and behaviors that lead to sexual and gender-based violence against Batwa women; and finding effective ways to protect Batwa women and respond to incidents of violence against them. These goals are extremely challenging, and will require a series of steps over the years.
The steps or activities that we will undertake during this project include:
setting up a rapid communications network to alert us to abuses;

planning ahead for individual emergency responses, when needed;

building capacity on Internet use and public awareness methods;

defining and testing effective measures to end violence against Batwa women;

organizing "know your rights" workshops for Batwa women;

leading women's and men's discussions on transformative and empowering gender roles in the context of indigenous culture; and

beginning to create a regional coalition by and for Batwa women.
Our Partners: We have seven partner organizations in our project, all of whom have staff who are experienced, dedicated and strong.
Encadrement des Femmes Indigènes et des Ménages Vulnérables (EFIM – Framework for Indigenous Women and Vulnerable Households) is the lead partner and coordinates the project. EFIM is based in Goma, Nord-Kivu Province, DRC, which is currently under a government-declared state of siege due to the uncontrolled conflict there. In May and June 2021, they were also struck by an erupting volcano accompanied by many earthquakes, and staff had to evacuate the city for several days.
EFIM's founder and Executive Director, Madame Jeanine BANDU, is a famous women's rights and peace activist in DRC. In 2018 she was invited to speak in front of the UN's Security Council about the impacts of conflict on women. Very sadly, after living through conflicts and the recent volcano, Madame Jeanine died of covid in September 2021.
We miss her greatly, and dedicate our project to her memory.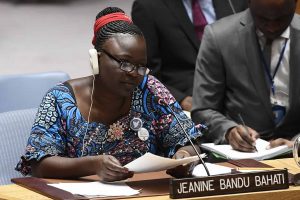 Fortunately, two very dedicated women are now managing the project: Mlle Gladys Mubuya (interim Executive Director) and Mme Thérèse Mujinga (Project Manager).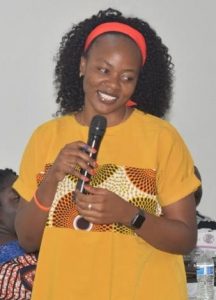 Gladys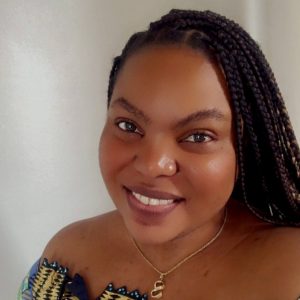 Thérèse
Centre Wamama Batwa Tuungane, and Action Communautaire pour la Promotion des Défavorisés Batwa (ACPROD Batwa – Center for Batwa Mothers Let's Unite!, and Community Action for the Promotion of the Discriminated-against Batwa) : This Batwa-led organization specializes in women's rights and food security for Batwa families. They are based in Bukavu and Shabunda, both in Sud-Kivu Province of DRC.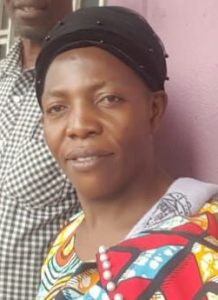 Timani
Actions pour le Regroupement et l'Autopromotion des Pygmées (ARAP – Actions for the Regrouping and Self-Promotion of Pygmies): This Batwa-led organization specializes in organizing Batwa individuals in the rural villages for their indigenous rights and empowerment, and has committed to bringing more strong Batwa women into our network. They are based in Bukavu and Bunyakiri, both in Sud-Kivu Province of DRC.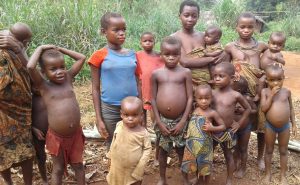 ARAP visits moms and kids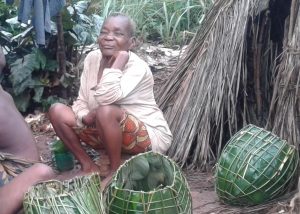 ARAP visits grandmothers making baskets
Initiative pour la Protection des Femmes Autochtones et de l'Environnement (IPROFAE – Initiative for the Protection of Indigenous Women and the Environment): This organization has worked with Batwa women and villages for many years, protecting their rights and working to establish community-led forestry projects. They are based in Bukavu and Shabunda, both in Sud-Kivu Province of DRC.


Eliane (third from right) and other attorneys meeting with Batwa
outside military court in Bukavu
African Initiative for Mankind Progress Organization (AIMPO): This Batwa-led organization is based in Rwanda, where it is forbidden to categorize people by their ethnicity. Thus it is difficult to track the situation of the Batwa people there. Their recent projects have addressed gender issues and also development of income-generating activities for the Batwa, who are extremely poor. They are based in Kigali, Rwanda, but frequently travel to outlying villages.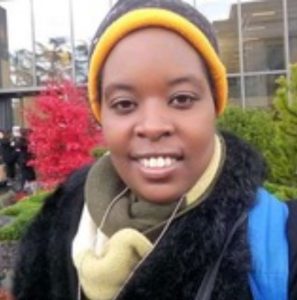 Delphine
Voix des Femmes pour le Développement, and Union des Peuples Autochtones pour le Réveil au Développement (VOFEDE and UPARED – Voice of Women for Development, and Union of Indigenous People for the Awakening of Development): This Batwa-led organization is based in Bujumbura, Burundi, but they frequently travel to outlying villages. The organization specializes in monitoring human rights violations against Batwa people, and also work towards economic development for Batwa communities, where many people are literally starving from lack of land or economic access.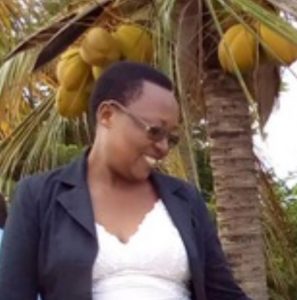 Spès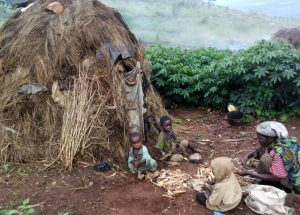 Batwa village in Burundi
Réseau Initiative for Equality (RIFE – Network Initiative for Equality) is an 18-partner indigenous rights network in DRC, Burundi and Rwanda.  Dr. Deborah S. Rogers serves as their international coordinator, helping with strategies and projects that require international connections. She is a consultant to this Batwa women's project, assisting the lead organization, EFIM, and helping with the monitoring and evaluation process.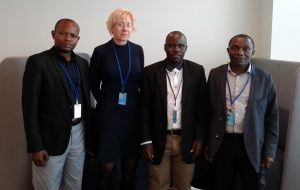 Deborah with other RIFE partners at the UN in 2018
#####