Eight indigenous Batwa community members involved in the fight to regain access to their traditional lands, now part of Kahuzi Biega National Park (PNKB) in the Democratic Republic of Congo (DRC), have been convicted and sentenced to lengthy prison terms.   
After a one-day trial filled with irregularities, on 04 February 2020 six men were sentenced to 15 years in prison plus $5000 fines, and two women to one year each. Charges included conspiracy, illegal possession of firearms, associating with criminals, and malicious destruction of the park. During the sham trial in a "mobile" court, it was claimed that these indigenous Batwa people were not really "Pygmies" (the former term used by outsiders to refer to this ethnic group), but just a criminal gang.
The timeline of the arrests, evidence-gathering phase, defense preparation, trial and sentencing were compressed into less than two weeks. The defendants were taken into custody by the Congolese Army (FARDC) on the night of 24 – 25 January; presented on 31 January before the Governor of Sud-Kivu Province; the complaint was filed on 01 February by the Congolese Institute for the Conservation of Nature (ICCN); the raid to collect evidence took place on 02 February, and the trial began and ended on 04 February, with a final judgment issued that same day.
Batwa people were evicted from the expanded park in several waves during the 1970's, with no provisions made for alternative lands, means of subsistence or survival. (See Background, below.) After living in extreme poverty for decades, these communities are now making a last attempt to negotiate a peaceful solution with the Congolese government allowing them to return home. When park officials began losing credibility with international donors and were unable to force the Batwa communities to back down, they adopted a hardline approach including arrests and even killings.
Sadly, Batwa people often die in prison due to abusive treatment, torture, or lack of sufficient food and health care. This pattern is already playing out for the detained community members, who are not being fed, and are forced to sleep in a cold, wet sewage-contaminated spot on the ground outside the prison building. Their lives are at immediate risk.
Attorneys for Réseau Initiative for Equality (RIFE, a regional network of 18 Batwa rights groups) and Centre d'Accompagnement des Autochtones Pygmées et Minoritaires Vulnérables (CAMV, working with international NGO Forest Peoples Programme) managed to file an emergency legal appeal during the five-day appeal period of 05 to 09 February 2020. This holds open the possibility for other groups to help develop a strong legal challenge to the poorly-conducted trial.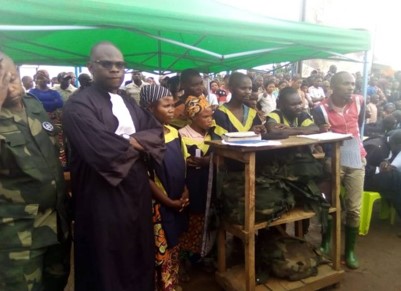 PHOTO: Green tent is the "mobile court" paid for by the ICCN. Prisoners are the men and women wearing black and yellow cloths. Community members sentenced include Chief Jean-Marie Kasula, head of the village of Muyange in the Miti Groupement, his wife, Nsimire M'manda, as well as Kayeye Badosa, Bisimwa Mufanzala, Cirakarula Kayeye, Murhula Kashadu, and Cekanabo Kayeye. They are all former hunter-gatherers who now live by farming and gathering non-wood forest products.
We urgently request your help through donations to support the legal appeal and prison fees for food and housing; legal assistance by experienced attorneys; and publicizing this crisis situation widely.
PLEASE DONATE NOW – donations are urgently needed to support the legal appeal, the global awareness and pressure campaign, and humanitarian assistance for these families:
https://www.initiativeforequality.org/get-involved/become-a-donor/
CONTACT US if you can help with the legal appeal or the global awareness campaign:                                                                 
Deborah S. Rogers, President; Initiative for Equality deborah.rogers@initiativeforequality.org
Lassana Kone, Lawyer; Forest Peoples Programme  lassana@forestpeoples.org
Background
For the past 40 years, there have been off-and-on attempts to regain lands in the park (PNKB), or at least access to traditional resources such as natural medicines. These attempts have resulted in an estimated 10 deaths of Batwa over recent years. In December of 2018, the efforts to reclaim certain lands in the park heated up when a group of Batwa men moved into the park and made a stand. Since then, several attempts at negotiation have failed when signed agreements were subsequently violated by Park officials and the Institute for the Conservation of Nature (ICCN).
These problems at PNKB have followed the pattern, well-documented for other large nature reserves, in which the indigenous people who lived in and protected the habitat for centuries or even millennia were suddenly evicted and subsequently harassed or even shot as poachers when attempting to return home. Traditional land rights held by indigenous peoples around the world often conflict with the desire to develop or extract resources from their lands, thus leading to conflicts and even killings in order to grab the land. Misguided attempts to protect the lands from exploitation often lead to further abuses of the habitat and wildlife, as well as the indigenous people themselves.
The Park and ICCN officials have been using a strategy of division among the Batwa people. They visit the poverty-stricken communities to promise education for the children and food for all. Since sentencing Jean-Marie Kasula and other Miti Groupement community members to prison on 04 February, PNKB has distributed food (vegetable oil, maize flour and beans) in nearby Batwa communities to confuse the issue and discourage support for those who were sentenced.  
The current legal attacks are designed to frighten the Batwa communities near the park into giving up their indigenous rights and their hope for the future. This attempt must not be allowed to succeed.  
References
Documentation of the pattern of abuses of indigenous peoples living in areas that are taken for parks and nature reserves, compiled by IPS News, Survival International, and Buzzfeed:
Articles on the current crisis, some using the inflammatory language of park and military officials (e.g. "le chef groupe de guerre pygmée"):