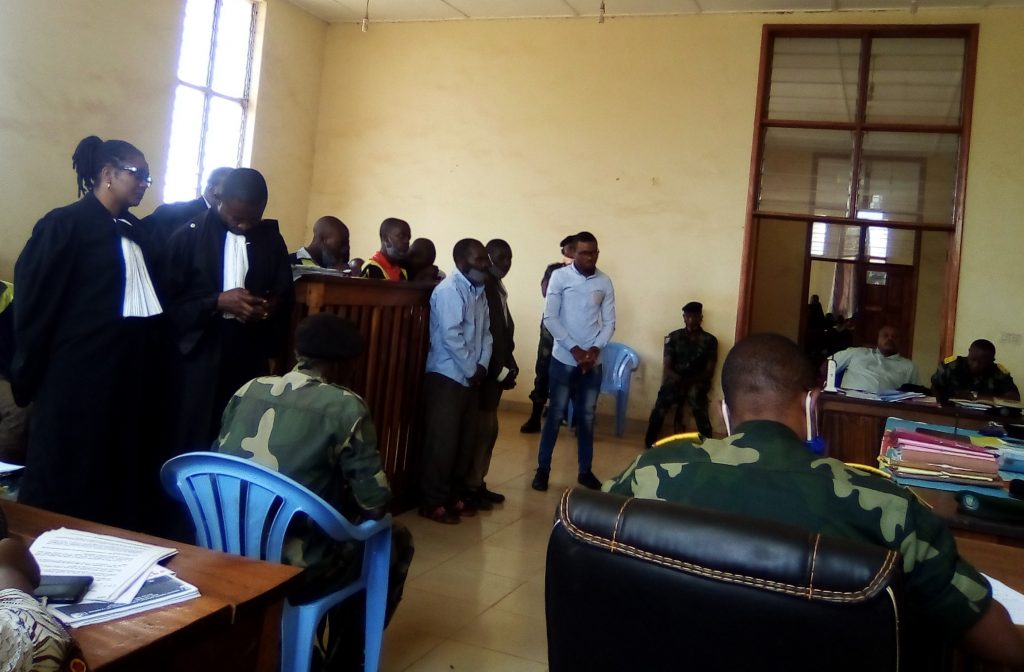 In front of the military court again on 27 August 2020: Chief Jean-Mari KASULA in light blue shirt (to the left)
(en français, ci-dessous)
Thursday 27 August, following legal arguments by a team of attorneys working for Congolese Batwa rights organization RCF-RDC, indigenous Batwa Chief Jean-Mari KASULA along with one other man, CHEKANABO KAYEYE, were released from the prison in Bukavu, DR Congo. Together with the two women who were released on 30 July, four of the eight prisoners have now been provisionally released from the deadly, overcrowded prison. Both men will be required to check in with the court once a week, as they are still awaiting the full hearing on their appeal.
KASULA was released on the grounds that as head of his community and father of a large family, he did not represent a flight risk. KAYEYE was released because he has been suffering severe health problems in the prison.
The eight indigenous Batwa detainees were convicted on 04 February 2020 on a series of charges stemming from their occupation of their traditional lands in Kahuzi Biega National Park. Some 6000 Batwa people were expelled from the park without compensation in the 1970s, and the former hunter-gatherer communities have been living without land or economic means ever since. RCF-RDC filed an appeal immediately after their convictions, but the pandemic and delays by the prosecution have repeatedly postponed the hearing dates. Attorneys have been told that the next day in court will be 17 September.
This case is globally significant because it challenges the top-down coercive conservation model, which claims to protect habitats and biodiversity through the expulsion of indigenous peoples and other local communities. These are the same peoples who have protected these lands from destruction over the centuries. Initiative for Equality (IfE) and other international NGOs are working together to advocate for a more equitable model of conservation and development that respects indigenous land rights, ecological knowledge and autonomy.
Français:
Jeudi 27 août, à la suite des plaidoiries d'une équipe d'avocats travaillant pour l'organisation congolaise de défense des droits des Batwa RCF-RDC, le chef autochtone batwa Jean-Mari KASULA ainsi qu'un autre homme, CHEKANABO KAYEYE, ont été libérés de la prison de Bukavu, en RD Congo. Avec les deux femmes qui ont été libérées le 30 juillet, quatre des huit prisonniers ont été libérés provisoirement de la prison mortelle et surpeuplée. Les deux hommes devront se présenter au tribunal une fois par semaine, car ils attendent toujours l'audition complète de leur appel.
KASULA a été libéré au motif qu'en tant que chef de sa communauté et père d'une famille nombreuse, il ne représentait pas un risque de fuite. KAYEYE a été libéré parce qu'il souffrait de graves problèmes de santé dans la prison.
Les huit détenus autochtones batwa ont été condamnés le 4 février 2020 pour une série d'accusations découlant de leur occupation de leurs terres traditionnelles dans le parc national de Kahuzi Biega. Quelque 6000 Batwa ont été expulsés du parc sans compensation dans les années 1970, et les anciennes communautés de chasseurs-cueilleurs vivent depuis sans terre ni moyens économiques. RCF-RDC a interjeté appel immédiatement après leur condamnation, mais la pandémie et les retards du parquet ont reporté à plusieurs reprises les dates d'audience. Les avocats ont été informés que le lendemain au tribunal serait le 17 septembre.
Ce cas est globalement significatif car il remet en question le modèle de conservation coercitive, qui prétend protéger les habitats et la biodiversité par l'expulsion des peuples autochtones et d'autres communautés locales. Ce sont les mêmes peuples qui ont protégé ces terres de la destruction au cours des siècles. Initiative for Equality (IfE) et d'autres ONG internationales travaillent ensemble pour plaider en faveur d'un modèle de conservation et de développement plus équitable qui respecte les droits fonciers, les connaissances écologiques et l'autonomie des autochtones.
###