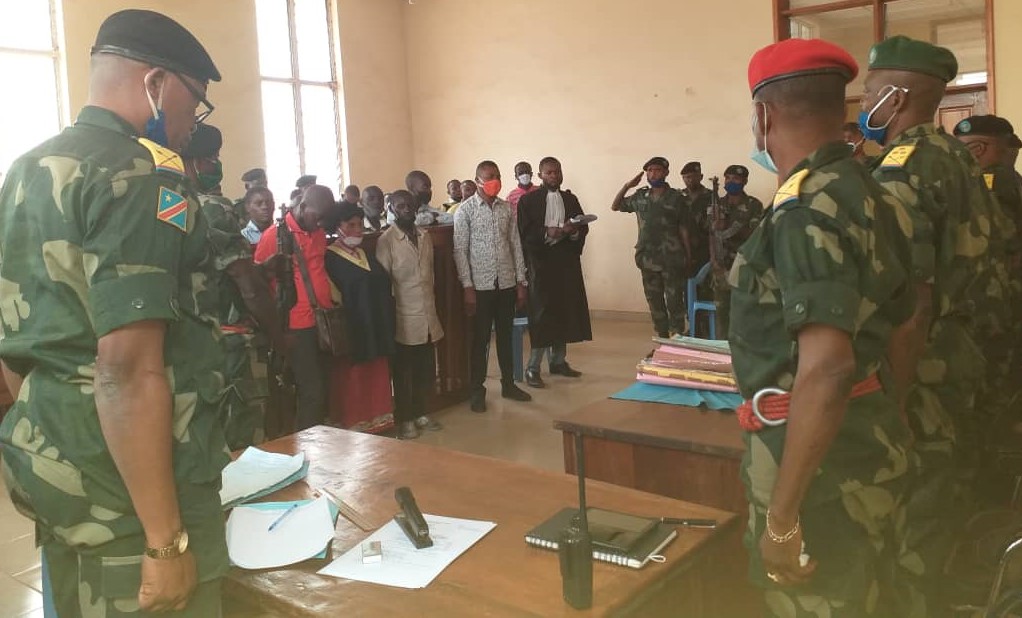 In the military courtroom in Bukavu, DR Congo 30 07 2020  /  Dans la salle d'audience militaire de Bukavu, RD Congo 30 07 2020
(en français, ci-dessous)
Efforts to achieve justice for the eight indigenous Batwa people sentenced to prison for attempting to reoccupy their lands took a significant step forward on 30 July, when the two women who were convicted and imprisoned were released pending their appeal. The eight prisoners are being held in the city of Bukavu, Democratic Republic of the Congo.
Scroll down to see a video of the celebration that took place when the two women walked out the prison door!
Following the hasty convictions on 04 February 2020, a consortium of local Batwa rights groups and international human rights groups launched a legal appeal and public awareness campaign to have the convictions overturned. According to a joint statement from these groups, "The one-day trial itself, and the steps leading up to the trial, were filled with irregularities and illegalities that represent a violation of due process." Read the joint statement and more about the case and its history here:  https://www.initiativeforequality.org/declaration-solidarity-indigenous-batwa-defendants/
The appeal has been in preparation for the past 6 months, but has been delayed because of the coronavirus pandemic. It is considered urgent because the health and lives of these defendants are at risk in the overcrowded prison where they are being held, often with little or no food.
The full hearing on the appeal is scheduled to begin on Thursday 06 August.
Français:
Les efforts visant à rendre justice aux huit Peuple Autochtones Batwa condamnés à la prison pour avoir tenté de réoccuper leurs terres ont fait un pas en avant important le 30 juillet, lorsque les deux femmes condamnées et emprisonnées ont été libérées en attendant leur appel. Les huit prisonniers sont détenus dans la ville de Bukavu, en République démocratique du Congo.
Faites défiler vers le bas pour voir une vidéo de la célébration qui a eu lieu après nos arguments juridiques couronnés de succès, lorsque les deux femmes ont franchi la porte de la prison!
À la suite des condamnations hâtives du 4 février 2020, un consortium de groupes locaux de défense des droits des Batwa et de groupes internationaux de défense des droits humains a lancé un appel juridique et une campagne de sensibilisation du public pour faire annuler les condamnations. Selon une déclaration commune de ces groupes, «Le procès d'un jour lui-même et les étapes menant au procès ont été remplis d'irrégularités et d'illégalités qui représentent une violation de la procédure régulière.» Lire la déclaration commune et plus sur le cas et son histoire ici:  https://www.initiativeforequality.org/declaration-de-solidarite-avec-les-peuples-autochtones-emprisonnes/
L'appel est en préparation depuis 6 mois, mais a été retardé en raison de la pandémie de coronavirus. Il est considéré comme urgent parce que la santé et la vie de ces accusés sont en danger dans la prison surpeuplée où ils sont détenus, souvent avec peu ou pas de nourriture.
L'audience complète sur l'appel devrait débuter le jeudi 6 août.