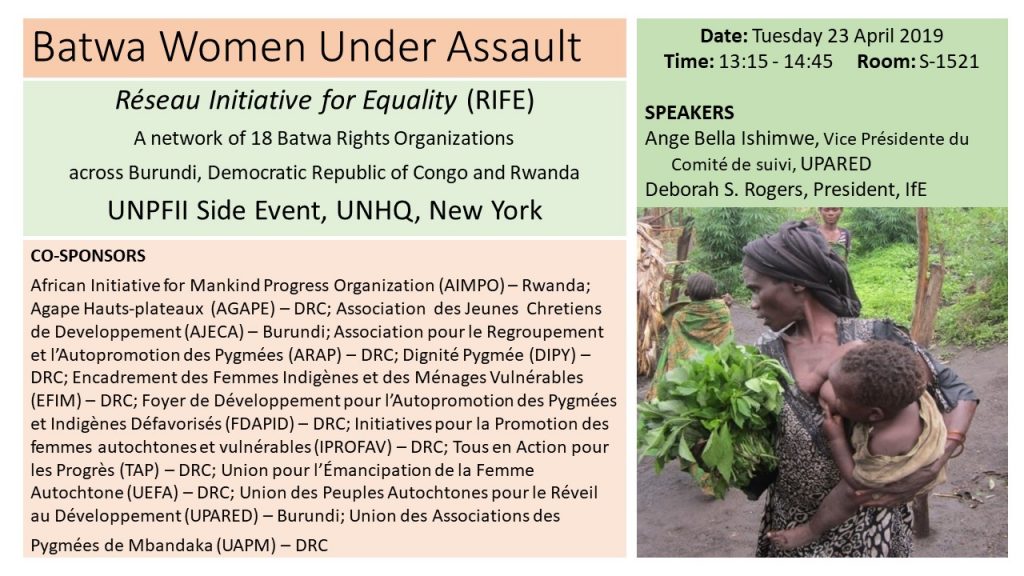 (En français ci-dessous.)
Please join us at the UN Headquarters in New York on Tuesday April 23, Room S-1521 at 1:15 pm (13:15) local time. We will discuss the very difficult situation for women of the Indigenous Twa and Mbuti peoples in the African Great Lakes region, particularly in Burundi, Democratic Republic of Congo and Rwanda, and the essential traditional knowledge they have to offer the world.
Co-sponsors of Side Event:
* Réseau Initiative for Equality (RIFE) – DRC, Burundi, Rwanda
* African Initiative for Mankind Progress Organization (AIMPO) – Rwanda
* Agape Hauts-plateaux  (AGAPE) – DRC
* Association  des Jeunes  Chretiens  de Developpement (AJECA) – Burundi
* Association pour le Regroupement et l'Autopromotion des Pygmées (ARAP) – DRC
* Dignité Pygmée (DIPY) – DRC
* Encadrement des Femmes Indigènes et des Ménages Vulnérables (EFIM) – DRC
* Foyer de Développement pour l'Autopromotion des Pygmées et Indigènes Défavorisés (FDAPID) – DRC
* Initiatives pour la Promotion des femmes autochtones et vulnérables (IPROFAV) – DRC
* Tous en Action pour les Progrès (TAP) – DRC
* Union pour l'Émancipation de la Femme Autochtone (UEFA) – DRC
* Union des Peuples Autochtones pour le Réveil au Développement (UPARED) – Burundi
* Union des Associations des Pygmées de Mbandaka (UAPM) – DRC
Speakers:
Ange Bella Ishimwe, Vice President of Implementation Committee, UPARED

Deborah S. Rogers, President, IfE
(en français)
Rejoignez-nous,   s'il vous plaît,  au siège de l'ONU à New York le mardi 23 avril, dans la salle S-1521 à 13 h 15, heure locale. Nous discuterons de la situation très difficile des femmes des peuples autochtones Twa et Mbuti de la région des Grands Lacs africains, en particulier du Burundi, de la République démocratique du Congo et du Rwanda, ainsi que des connaissances traditionnelles essentielles qu'elles doivent offrir au monde.
Co-sponsors du Side Event:
* Réseau Initiative for Equality (RIFE) – DRC, Burundi, Rwanda
* African Initiative for Mankind Progress Organization (AIMPO) – Rwanda
* Agape Hauts-plateaux  (AGAPE) – DRC
* Association  des Jeunes  Chretiens  de Developpement (AJECA) – Burundi
* Association pour le Regroupement et l'Autopromotion des Pygmées (ARAP) – DRC
* Dignité Pygmée (DIPY) – DRC
* Encadrement des Femmes Indigènes et des Ménages Vulnérables (EFIM) – DRC
* Foyer de Développement pour l'Autopromotion des Pygmées et Indigènes Défavorisés (FDAPID) – DRC
* Initiatives pour la Promotion des femmes autochtones et vulnérables (IPROFAV) – DRC
* Tous en Action pour les Progrès (TAP) – DRC
* Union pour l'Émancipation de la Femme Autochtone (UEFA) – DRC
* Union des Peuples Autochtones pour le Réveil au Développement (UPARED) – Burundi
* Union des Associations des Pygmées de Mbandaka (UAPM) – DRC
Haut-parleurs:
Ange Bella Ishimwe, Vice Présidente du 

Comité de suivi, 

UPARED

Deborah S. Rogers, Présidente, IfE